Staff Convener (2014-18)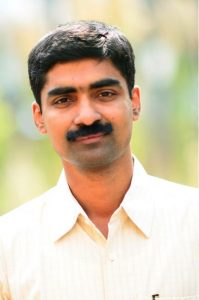 Dr. Sijo Varghese C
Assistant Professor
Dept. of English
Red ribbon Club of the college has undertaken a number of initiatives in providing awareness to control AIDS in our society. The club has also carried out a number of blood donation camps in the campus to make blood available to the needy persons. In order to encourage to students and the general public we had undertaken a programme called 'Chorak k Cheera'. It is one of the flagship programme of  Kerala State Aids Society.
Blood Donation
Eight Blood donation camps were conducted by the Sena in the campus and collected 456 units of blood. Apart from the blood donation camps conducted  in the campus, the students voluntarily donate blood in various medical colleges in Thrissur whenever there is a request from a needy patient. We also render our service by giving away the certificates of those volunteers who have donated blood and the needy patients can get blood form IMA, Thrissur, by surrendering the certificates.   The Sen has released the volunteer blood donor's directory. The directory includes the names and contact details of more than three hundred blood donors from various blood groups. The directory has been uploaded in the college website so as to enable the people to avail the service at any time. The volunteers have prepared the directory according to the blood groups and the online service will definitely help people to meet the demand for blood
Venue
Agency
No. of Units of Blood
Date
1
Campus
IMA, Thrissur
54
06-10-2015
2
Campus
IMA, Thrissur
76
09-03-2016
3
Campus
IMA, Thrissur
54
27-07-2016
4
Campus
IMA, Thrissur
66
22-11-2016
5
Campus
IMA, Thrissur
58
07-03-2017
6
Campus
IMA, Thrissur
48
02-08-2017
7
Campus
IMA, Thrissur
57
22-11-2017
8
Campus
IMA, Thrissur
43
07-03-2018
Total
456
Spinach is Good for Blood
The volunteers are set to bring out red revolution in the campus by harvesting spinach. The volunteers planted spinach in 100 grow bags and nurtured them for a noble cause. Blood donation is one of the major activities of the Sena.  Though the volunteers are ready to donate blood, the authorities would be reluctant to take the blood of those volunteers who have deficiency of Haemoglobin in their blood.  In order to rectify this problem, the Sena in association with NSS of the college took it as a challenge to resolve the issue by planting spinach in the campus. Spinach is distributed among students free of cost and they can prepare nutritious dish of their choice from at home. A tremendous increase was found in blood donation from the part female volunteers.