Entrepreneurship Development CLUB (ED Club)
The ED Club had been formed with an instruction from the Director of Collegiate Education,Kerala.The intention of the formation was to inculcate the aptitude of entrepreneurship among the students.The employment should not be the sole aim of the graduates but to think, design and implement various ideas into creative enterprises and thereby leading from the front. Each individual must be an employment provider rather than an employment seeker. So many people are in our society with unique capabilities which could not be coming into the limelight. This type of Clubs will provide opportunities to such people and students to prove their mettle in various fields like handicrafts,graphic designing, fabric painting, glass painting, ornaments making and so on.
Staff Convener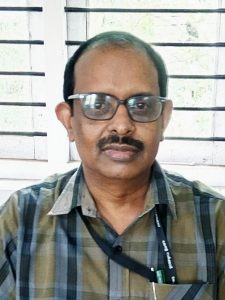 Rajkumar S V
The Club was formed with 50 students from all the disciplines.
Activities
The activities of each year starts with an inauguration function with a successful entrepreneur which will provide a platform for the club members to interact with.
The programmes are organized with the full support of District Industries Centre,Thrissur thereby industrial and entrepreneurial awareness is provided to the members.
Workshops are conducted with real designing capability enhancement methods and members can familiarize with practical skills.
Exhibitions are conducted to display the articles designed by the members and other students and teachers of the college.
Onam related articles' exhibition along with food fest .
Training in manufacturing of cloth bags
Industrial visit.
The ED Club is getting financial assistance of 12000/- p.a
The students are getting an opportunity of entrepreneurial activities from the various programmes.
Events
2015-16
Report of exhibition cum sale of Onam related innovative products and food stuff conducted in the College on 20/08/2015:
It was the second programme of the ED Club in the year 2015-16. The objective of this fair was to motivate the members to design products on special occasions like Onam. They arranged 6 stalls with variety products like:
-Furniture, Electrical items, Decorative items, Pen stand and so on with bamboo
-Model clock with cycle wheel
-Thrikkakkarayappan and decorative flowers with paper
-Flowervase
-Different varieties of ada, shake and other traditional food products designed in a modern style
-Paper bags
-Chips and so on.
The exhibition was declared open by the Principal Sri U S Mohanan.
The esteemed presence:
Sri Ajithkumar, DIC, Industries Extension Officer
Sri Sudhakaran, Administrative Office Supdtt.
Sri Sijo Varghese  and Smt Rezeena P R –NSS Program Officers
Sri S V Rajkumar, Co-ordinator, ED Club
Sri Sijin Jose and Kum Seethal Ravindran- Student Co-ordinators.
Gallery
Inauguration of the Exhibition
Students creativity