Bhoomitra Sena 
Convenor: Dr. Saritha Sivadas, Assistant Professor of History
Bhoomitra Sena is an initiative of the Directorate of Environment and Climate Change, Govt. of Kerala. The Club is sanctioned to only selected colleges. They undertake activities related to the protection of environment, promotion of greening and agriculture to inculcate the basics of agriculture, sustainable environment, protection of mother earth.
Activities and events 2022
Nature Club and Bhoomithrasena inauguration on 24/11/22. Inauguration and keynote address by Dr C George Thomas on the topic "Biodiversity in Kerala".
Click here for more: Inauguration of  NatureClub Bhoomitrasena 2022 
Activities (2014-2018)
 Onnathinorupara Nellu
The Bhoomitrasena volunteers of the college sowed the seed for paddy cultivation  as part of  the project "Onathinu oru para nell" in one and half  hectares of land in the campus. The special variety  of seed called "Pratyasha" was  used for the special occasion.  It was  good opportunity during Onam to join hands with the farmers in providing food to the nation. The main purpose of the paddy cultivation was to utilize the rain water of the season  and allow the soil to absorb its maximum and recharge the earth.  As the college is situated in 26 acres of land, paddy cultivation helped to keep the campus green and clean from weeds. It was one of the methods to inculcate the spirit of agriculture among the new generation students and to know different process involved in the production.
The profit from the yield was utilized for charitable activities. The project was funded by the State Government and the educational institutions are directed to initiate the project. Self reliance in food can be ensured by such initiatives and more importance was given to organic method as it is the need of the hour.   The initiative of the was supported by the Krishi Bhavan, Ollur, NSS  and college union. Mr. K.K. Jayan, Asst. Director of Agriculture, Cherpu Block, Mr. Raveendran E. N. Agriculture Officer, Krishi Bhavan Ollur, Mr. P.K. Yudhishnan, College union Chairman, spoke on the inaugural ceremony which was conducted in the college. Volunteers receive the paddy seed for cultivation from the Hon'ble MP of Thrissur
News Paper report on Paddy cultivation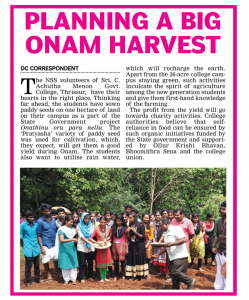 Onnathinorumuram Pachakari
The volunteers Bhoomithra Sena and National Service Scheme cultivated six varieties of vegetable in the campus as part of the programme "Onnathinorumuram Pachakari". The programme was highly successful and an Onnam Fair was conducted by the Krishi Bhavan Ollur. Six varieties of vegetables were planted as part of the programme including elephant foot yam, ash gourd, bottle gourd, pumpkin,  ladies finger and spinach. 21 Kg of Ash Gourd, 98 Kg of elephant foot yam, 38 Kg of Pumpkin and 6 KG of Ladies finger were sold in the fair.
Participation in the Onam Fair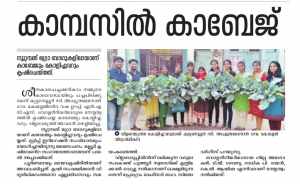 Cabbage and Cauliflower Cultivation
The Krishi Bhavn, Ollur, supplied 150 grow bags for the cultivation for cabbage and cauliflower in the campus. Drip irrigation was provided for the plants.
Planting the saplings of cabbage and cauliflower