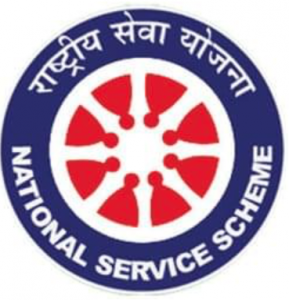 NSS Programme Officer ( Unit 98): Sri. Sajeev Krishnan M A, Assistant Professor of Computer Science
NSS Programme Officer ( Unit 129): Smt. Saritha Sivadas, Assistant Professor of History
APP FOR MODULE BASED ONLINE NATIONAL SERVICE SCHEME ORIENTATION: Please click here for details
Please click here to see the approval and NOC documents.
Events 2022-23
25/01/2023 In connection with Republic Day Department of History and Political Science, NSS Units and Quiz Club jointly organized Republic Day Quiz
Previous Events
National Service Scheme (NSS)
 National Service Scheme is a student-centered and community-oriented educational programme. It is a noble experiment in academic extension. It inculcates the spirit of voluntary work among students and teachers through sustained community interaction. National Service Scheme is an excellent platform along with the classroom to enrich innate abilities for the overall development of the students. It inculcates the spirit of social responsibility and voluntary work among students and teachers. The overall aim of NSS is to promote the Personality Development of students through Community Service. The NSS units of our college came to existence in the year 1973 soon after the opening of the college. In the college, two units of National Service Scheme (N.S.S.) are functioning under two programme officers. Each and every programme is arranged in order to inculcate social values in the volunteers.                                                                                                                                                                                                                                                                                Achievements of NSS 
NSS Activities (2020-2021)
State level workshop on Public Fund Management System and follow on webinar on PFMS (13th June 2020 &  15th November 2020)
When the pandemic hit the usual routines of our daily life, the NSS Programme Officers of Kerala and Lakswadweep faced a great challenge in dealing with Public Fund Management System.  During the situation, NSS units of the College were successful in organizing a state level workshop on PFMS on June 13th 2020.  Considering the requirements of programme officers, NSS units also successfully organized follow on workshop(state level). The Resource Person of the programme was Shri Renjith P., VHSE state coordinator.
Current year Activities
Creativity of NSS Volunteers
NSS units to create a BMI directory, Blood Group Directory and Blood Donors Directory
NSS launches an App for Module based Orientation
NSS Unit organizes a talk on "Vigilant India, Prosperous India" on October 29 , 4 to 5 p.m
Students of NSS Units took the Covid 19 pledge on October 8 2020
NSS Unit  organized a Speech competition-October 4 to 9 2020
An online programme Snehadharam was conducted on September 30 2020
Activities
NSS Officer
Years in charge
Awards/Rewards

Soni T L

 

2013-14

2014-15

2019-20

2020-21

Soni T L Received Good Service Entry in 2019
Indira Gandhi NSS National Award 2013-1
Best NSS Programme Officer-Soni T
Best NSS Award
Best Unit Award 2014 at State Level
Best Unit Award 2014 at Calicut University Level
Best Programme Officer award 2014 at Calicut University: Soni T L

Dr. Sijo Varghese C

2014-15

2015-16

2016-17

2017-18

National Young Leaders Award instituted by the Ministry of Youth Affairs and Sports, Govt. of India in 2017.
Best Programme Officer of National Service Scheme in the University of Calicut in 2017.
Best Programme Officer of National Service Scheme in the State in 2018.
Best Coordinator for carrying out two Social Action Projects in India as part of the Active Citizen's Programme of the British Council in 2017
Represented India in the International Study Visit to United Kingdom as part of the Active Citizen's Programme of the British Council in 2018

Raseena PR

2015-16

2016-17

2017-18

Selected as Home Team Leaders on basis of excellence in Social Action Projects by Active Citizens, British Council
Best Programme Officer of National Service Scheme in the State in 2018
World Aids Day Celebration
Brochures of other programmes