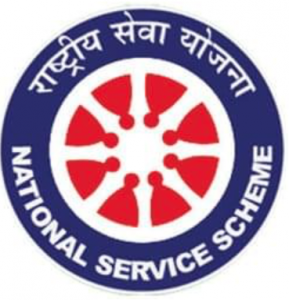 NSS Programme Officer ( Unit 98): Sri. Sajeev Krishnan M A, Assistant Professor of Computer Science
NSS Programme Officer ( Unit 129): Smt. Saritha Sivadas, Assistant Professor of History
National Service Scheme is a student-centered and community-oriented educational programme. It is a noble experiment in academic extension. It inculcates the spirit of voluntary work among students and teachers through sustained community interaction. National Service Scheme is an excellent platform along with the classroom to enrich innate abilities for the overall development of the students. It inculcates the spirit of social responsibility and voluntary work among students and teachers. The overall aim of NSS is to promote the Personality Development of students through Community Service. The NSS units of our college came to existence in the year 1973 soon after the opening of the college. In the college, two units of National Service Scheme (N.S.S.) are functioning under two programme officers. Each and every programme is arranged in order to inculcate social values in the volunteers.   
Please click here to see the approval and NOC documents.
APP FOR MODULE BASED ONLINE NATIONAL SERVICE SCHEME ORIENTATION: Please click here for details
Activities and Events 2023-24
08/08/2023 "Give Peace a Chance" program organised by NSS units, Department of History and Department of Political science in association with Kerala Sastra Sahithya Parishad on 08/8/2023
05/06/2023 World Environment Day Celebration: World World Environment Day celebrated by NSS, Bhumithrasena and Nature club of Sri C Achutha Menon Govt College in association with Mercy Cops on 5th June. Fruit garden planting was inaugurated by Sri. K S. Sudarsan IPS, Superintendent of Police, Crime Branch, Alappuzha and founder of Mercy Cops.         
                                                                                                                                                                           Achievements of NSS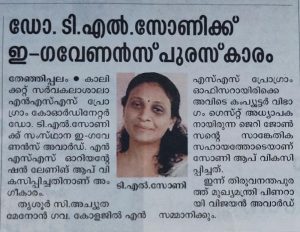 Activities and Events
NSS Officer
Years in charge
Awards/Rewards

Soni T L

 

2013-14

2014-15

2019-20

2020-21

Soni T L Received Good Service Entry in 2019
Indira Gandhi NSS National Award 2013-1
Best NSS Programme Officer-Soni T
Best NSS Award
Best Unit Award 2014 at State Level
Best Unit Award 2014 at Calicut University Level
Best Programme Officer award 2014 at Calicut University: Soni T L

Dr. Sijo Varghese C

2014-15

2015-16

2016-17

2017-18

National Young Leaders Award instituted by the Ministry of Youth Affairs and Sports, Govt. of India in 2017.
Best Programme Officer of National Service Scheme in the University of Calicut in 2017.
Best Programme Officer of National Service Scheme in the State in 2018.
Best Coordinator for carrying out two Social Action Projects in India as part of the Active Citizen's Programme of the British Council in 2017
Represented India in the International Study Visit to United Kingdom as part of the Active Citizen's Programme of the British Council in 2018

Raseena PR

2015-16

2016-17

2017-18

Selected as Home Team Leaders on basis of excellence in Social Action Projects by Active Citizens, British Council
Best Programme Officer of National Service Scheme in the State in 2018
Gallery
Creativity of NSS Volunteers – Bamboo bench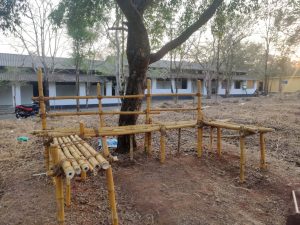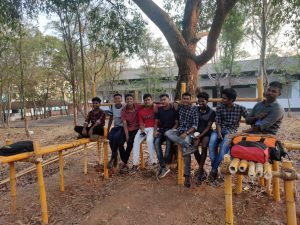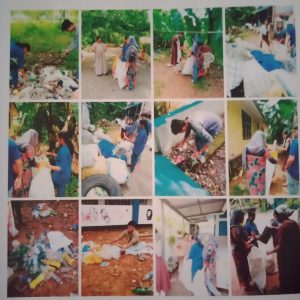 World Aids Day Celebration