Additional Skill Acquisition Programme(ASAP)
ASAP ( Additional Skill Acqisition Programme) is jointly implemented by General and Higher Education Departments and focuses on equipping students with additional skills for employability. It is proposed to impart the additional skill modules along with the regular educational process for the undergraduate students. The project envisages providing an additional module of skill enhancement  of 300-350 hours per year for the college going students who opt for this. A student completes Level-1 module of 300-350 hours would be evaluated and provided with a skill certificate issued jointly by the industry/ industry association and the Kerala Government.
Courses offered
Foundation Course: in the modern world, basic English Communication and IT skills are the basic skill sets required for any industry. To equip the students in these two areas, a Foundation course consisting of modules of Communicative English & IT are provided to all the students who join ASAP. The English communication module is of 100 hours and the IT module is of 80 hours duration.
Skill Courses: The aim of the skill courses is to equip the students with industry relevant skills. The students can choose courses in different areas, depending on their aptitude.
ASAP was started in our college in the year 2012-13. Dr. E. Murali, Associate Professor of Department of Commerce was the first Coordinator of ASAP. In the college, Foundation course is offered to the students. The classes are conducted from 8.15am to 9.15am in the morning session and from 3.30pm to 4.30 pm in the evening session.  Students are provided refreshments during class days. They are also provided essential stationery items frequently. Students are offered Skill course training in IASE Thrissur. Some of the courses opted by our students are Equity Dealer in Global Business Foundation skills,  Junior Software Developer, Fashion Designing, Consignment booking&tracking, Executive Travel Accounts ,Executive Consultant, Certificate Course in CAD, GST Accounts Assistant and Travel Consultant.
The first batch comprised of 30 students from all four departments of the college. There were 5 boys and 25 girls in the first batch. They successfully completed their Foundation course from the college and Skill course from IASE Thrissur. The admission for the new batch is done after personal interview and group discussion. Altogether 145 students (6 batches) of this College successfully completed ASAP course. 2018-19 batch comprises 32 students .They have just finished their Foundation and Skill courses, preparing for their exams. Presently running batch has 28 students from different Departments. They are undergoing Foundation Course through online mode. The SDE in charge of the present batch is Mrs. Pinky Antony.
Staff Coordinator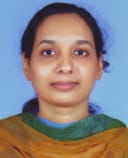 Dr. Deepa Paul,
Assitant Professor
Dept. of Commerce
Gallery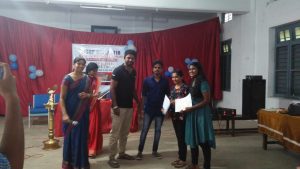 Annual Report