Pain and Palliative Care Unit(PPCU)
Pain and palliative care unit of our college had functioned as a part of the NSS Units of our college before 2017. It was formed as a separate unit during the period of our former Principal Dr. Elsamma Joseph Arakkal. Sini P.M. was given charge of the same from the academic year 2017-18. Pain and Palliative care unit of our college is functioning in collaboration with Primary Health Centre Ollur, Pain and Palliative Care Society, Thrissur and ALPHA Hospice, Thrissur
Convenor: Sini P M, Assistant Professor of History
Events (2022-2023)
ORIENTATION PROGRAMME IN PALLIATIVE CARE FOR STUDENTS
National Service Scheme and Pain and Palliative Care Unit of Sri. C. Achutha Menon Government College Kuttanellur, in collaboration with, Community Health Centre Ollur had conducted a training programme on palliative care on 4.7.2022. Dr. Kailas (Palliative Medical Officer Ollur, CHC), Jinsha K.R(Palliative Nurse), Hasna K.K(Physiotherapist), Anu Scaria (Staff Nurse) and Daisy Vincent (Volunteer) created an awareness among students by sharing their experiences and talking about the meaning and scope of Palliative Care, the activities and benefits of palliative care, home care, the importance of students in palliative care, importance of Physiotherapy in palliative care. Dr.Unnikrishnan.T (NSS P.O) and Sini.P.M (Pain and Palliative Care Unit Coordinator) organized the class. The class was conducted in the college seminar hall.
Previous Events 
Events (2021-2022)
Nine students of our college (Ropson Cheeran, Devinanda P C, Ruksana A, Revathy K B, Aparna C S, Rahana K H, Anamika N R, Nikhila V T & Sreelakshmi K P)have attended Palliative Care Workshop for students and teachers organized by Students Association of Palliative Care(SPAC), an initiative of Alpha Palliative Care at Regional Theatre, Thrissur on 16/3.2022. Our student representative, Ropson Cheeran received the memento for our institution.
Pain and palliative care unit 2021
Events (2020-21)
Events (2019-20)
Orientation for students

Participation in Thrissur Flower Show 2019
Waste management initiatives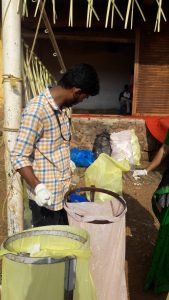 Punarjani karunyasangamam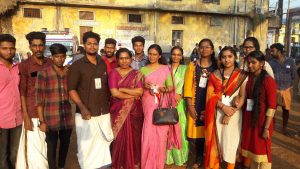 Rang 2020 team
Events (2018-19)
Orientation for Students
Family Get together of differently abled children
Participation in the three day State Conference of Student's Association of Palliative Care, conducted at Government Engineering College, Thrissur.
Mantharam project