COMMON COURSES OFFERED
PROGRAM
SEMESTER
NAME OF PAPER
PAPER CODE
BA/BSc
1
Samskritasahityasamiksha-I Kavya literature and Applied Grammar
SKT1A07(01)
2
Samskritasahityasamiksha-II    Prose and Applied Grammar
SKT2A08(01)
3
Samskritasahityasamiksha-III   Drama and Alankara
SKT 3A 09(01)
4
Samskritasahityasamiksha-IV    History of Sanskrit Literature , Kerala Colture and Translation
SKT4A10(01)
B Com / BBA
1
Samskrtasahityadhyayanam-I Prose,  Subhashitas and Basic Grammar
SKT1A 07(02)
2
Samskrtasahityadhyayanam-II   Ancient Statcraft and Translation
SKT2A 08(02)
B Sc Computer Science
1
Samskrtasamanyaparicaya-I Poetry and  Grammar
SKT 1A07(03)
2
Samskrtasamanyaparicaya-I Drama and Translation
SKT 2A08(03)
Faculty 
| | | | | | |
| --- | --- | --- | --- | --- | --- |
| Sl No. | Name of the Faculty | Designation | Contact Details | Photo | Profile |
| 1 | Dr. Ajitha TS | Associate Professor & Head | 9446146214 | |  View More |
Events:
Results of Selfie with Pookkalam contest  conducted in connection with Onam was declared . All the entries are bound together to form a flip book.

Results of writing completions declared!!!!      

In connection with the Reading day the dept has conducted a writing competition among the students on two topics..1. My book 2. My reading experiences .. The results are published and the prize winning write ups are edited together to form a flip book 

Talk on Sanskrit  Grammar  by Dr. P Narayanan Nambudiri , Professor, ( Rtd) Department of Sanskrit University of Calicut  on 23rd August 2021 .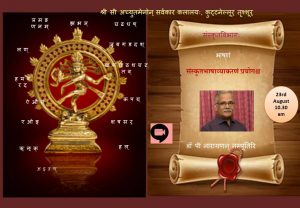 Workshop on Kutiyattam and Nangiarkoothu by Smt Usha Nangiar on 5th December, 2020.