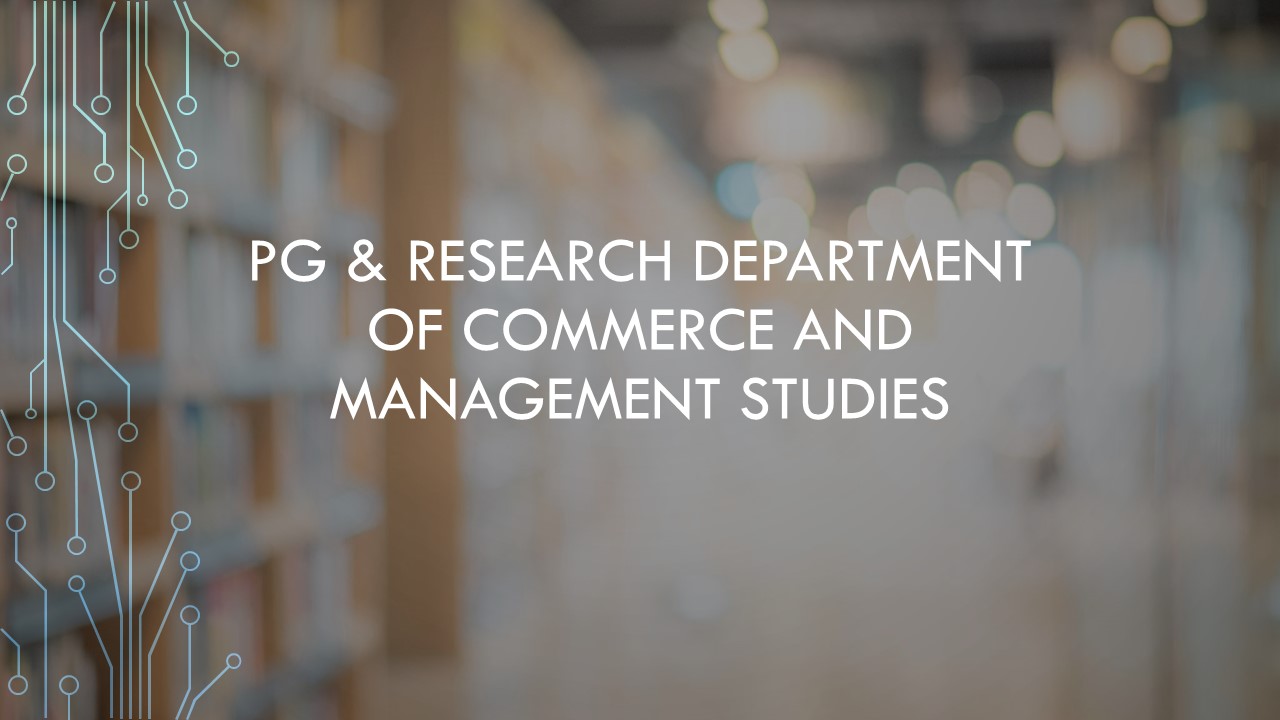 PG & Research Department of Commerce & Management Studies started functioning at the inception of the college in 1972, with a pre-university course in commerce. Catering to the needs of almost one-third of the total student population of the college, the department presently offers two UG programs (B.Com & B.B.A) one PG program (M.Com.), and a Ph.D. program in Commerce and Management stream. The department earns the status of a prominent center for teaching and learning in business and management education in the region.
The department strives to attain the highest standards in teaching by maintaining a dynamic academic community. The department presently owns a full-fledged faculty base of thirteen permanent teachers who guide and teach students during and after working hours of the college. A well-equipped library, ICT supported classrooms, and advanced computer lab, are among the facilities available to the students. The department conducts seminars, workshops, and lectures by experts in various fields regularly to blend industry practices with academics. The department offers free coaching for UGC NET-JRF, CAT/MAT and other competitive examinations to the students in and outside the college.
The members of the faculty are actively involved in research and extension activities. Most of them are Trainers/visiting faculty of Industrial Training Centers, Skill Development Centers, and other institutions of national importance. Some of the faculty members regularly publish articles/research papers in International/National journals of repute.
The department is a recognized research center under the Faculty of Commerce and Management, University of Calicut.
Year Established
1972
Programmes Offered
B.Com (Finance),  B.B.A (Finance),
M.Com (Marketing),
Ph.D. in Commerce
Head of the Department
S V Rajkumar
Faculty Members of the Department
Sl No.

Name of the Faculty

Designation

Contact Details

Photo

Profile

1

S V Rajkumar

Assistant Professor & Head

9349191936  svrajkumar25@gmail.com

 

2

Vijayan P K

Assistant Professor

9961569291  vijayanpoongat@gmail.com

 

 3

Dr.Madhusoodanan Kartha

Assistant Professor

9946668199 madhunjaloor@gmail.com

 

View Profile

4

Dr. Renjitha Rajeev

Assistant Professor

7736327966  renjitharajeev@gmail.com

 

5

Liji V P

Assistant Professor

9447277354  lijimadhavan@gmail.com

 

6

Johnson N J

Assistant Professor

9961240777   johnsonnambadan@gmail.com

 

7

Dr. Deepa Paul

Assistant Professor

9747054456  deepapaul003@gmail.com

 

8

Dr. Eldhose K V

Assistant Professor

9447047732  eldhosewithu@gmail.com

 

9

Dr. Anand K

Assistant Professor

9446447258  anandkfaculty@gmail.com

10

Manju K V

Assistant Professor

9656738032  ratheeshmanju17@gmail.com

 
View Profile

11

Siji M U

Assistant Professor

 9495026200          sijismu@gmail.com

 

 

12

Dr. Ajitharani Unnikrishnan

Assistant Professor

9446034762   drajitharani4@gmail.com

 

13

Santhosh V C

Assistant Professor  

9847524792  santhoshvchandran@gmail.com

 

View Profile
The students of the Department have always given outstanding performances and in the year 2017-2019 and 2016-18 students secured top ranks in M Com Examination.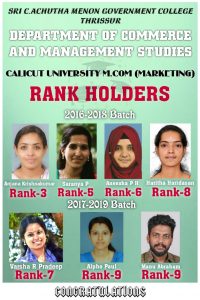 Management Fest (ALOKI)
The Department conducted  the first All Kerala Intercollegiate Management Fest 'ALOKI 2K18′ on 18th January 2018 and 'ALOKI 2K19' on 13th December 2019 the following year. The fest helped the students to exhibit their extracurricular activities in terms of both management and cultural activities.
Academic/Co curricular Activities
Webinar on Practical Implications of Income Tax
Webinar on 'An Introduction to GST on 19th Feb 2021
Keralapiravi Day Programme on Nov 1 2020
Youtube channel/Blog of Faculty members
Dr. Renjitha Rajeev – https://youtube.com/channel/UCZ_FqrFjcL0p9rD0VnSvvrQ
Johnson N J     – https://www.youtube.com/channel/UCqfl887NO6JZnPtlxKxCNoA
Johnson N J(blog)     – https://www.jnjclasses.com/
Sabu George      –https://youtube.com/c/Commerceclassroom
Extension Activities 
The department is hosting the free online NET coaching GCCNC (Government College Commerce Net Coaching) which is handled by a group of Govt. College teachers( inclusive of all the faculty members of the college) for commerce post graduates of the Govt. Colleges and in its trail attempt an applauding result  was put forth by the team.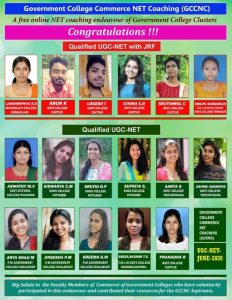 As the continuation of the GCCNC activity this year the formal inauguration of the programme was initiated by the college
Department of Commerce hosts UGC-NET coaching for Commerce post graduates organized by Govt. College Cluster