The Department of Economics is one of the coeval departments since the inception of the College in 1972 with BA Economics Programme. When the college shifted to the new campus of Kuttanellur in 1995, our Department is upgraded to the level of MA Programme. By 2020, the department move one step ahead and became the research department under Calicut university.
Vision and Mission of the department: To create better humanitarian and knowledgeable community through research, gender friendly and nature friendly approach.
To fulfil the vision and mission, our department conducts vivid programmes like, Saanthwanam (helping hand to society through the new generation hands)
We consider gender as a fluid and proud to be the first department under Calicut university to admit a transgender (transwomen) to BA Programme. To make students and academic community gender friendly aptitude we regularly conduct programmes like " SOJI inclusive education", interaction with sexual and gender minorities etc.
We try to conduct our programmes on a nature friendly basis. The international seminar conducted by the Department gained appreciation from Suchithwa Mission, Government of Kerala for keeping Green Protocol.
The Department is blessed to have eminent personalities like Dr. Visakha Varma, Dr. Rajeev Bharathan etc. as our former teaching faculties. Presently the Department comprised of 7 permanent faculties with academic excellence and research aptitude. Coming to the academic excellence, our faculty members are the visiting faculties of various Government Bodies (KILA, ETI, Land Acquisition Board) and some others are the members of Board of Studies of different Universities and Autonomous Colleges.
Established Year
1972
Programmes Offered
BA Economics
MA  Economics
Ph.D
Current intake of Students
BA  –  65
MA – 27
Head of the Department
Dr. Ramya R.
Faculties 
Sl No.

Name of the Faculty

Designation

Contact Details

Photo

Profile

1

Dr. Ramya R

Associate Professor & Head

9946985656               

ramyarajeswaran18@gmail.com



 View more

2

Siyar Manuraj

Assistant Professor

9446229960                               

simanuraj@gmail.com

 View more

4

Dr. Smitha R

Assistant Professor

9446229684                            smithabhini@gmail.com

 
 View more

5

Sangeetha P G

Assistant Professor

9645529259                   sangeethasupriyan@gmail.com

 View more

6

Ajitha R

Assistant Professor

9961850950         

ajitharamakrishnan88@gmail.com

View More

7

Sandhya KP

Assistant Professor

 9446229684      sandhyakovilkattu@gmail.com
Academic/ Co-curricular Activities
Talk organized on Kerala Budget 2021 on January 25th, 2021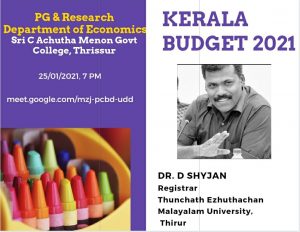 Dept. of Economics organizes an online workshop on "Applied Statistics" on October 19th 2020
Gender awareness class on SOGI inclusive Education on 5th February, 2020
The talk  delivered by Dr Jijo Kuriakose, the reputed SOGI Consultant. He spoke about the various problems faced by sexual and gender minorities, and also  focused on the need for a more humanitarian approach to various marginalized communities.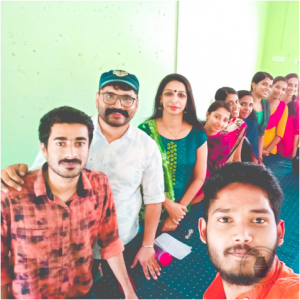 Extension Activities
Swanthanam
Swanthanam is a continous programme that started on February  2012. The programme aimed at providing financial, social, physical, mental and emotional support to those who are in need of. Various programmes were conducted from the beginning till now.
Juvenile home visit
Teachers  and Final year BA students of Economics department  visited the juvinile home on 24th February 2012. They entertained the inmates with cultural programms and motivated them. They also provided and shared food with them and made a feel of belongingness. It is a wonderful experience to both the students and the inmates.
Asraya Bhavan visit
Students and teachers of the department visited Asraya Bhavan once in a month from February 2012. They used to interact with the inmates and provided and shared food with them. The support and care provided by the students gave much happiness and emotions to the inmates and students.
Blood donation camp
A blood donation camp was organized by the department on 2nd November 2012 in association with NSS. 25 students of the department donated blood. This created an awareness among the students about the blood donation and its importance.