A library is the delivery room for the birth of ideas, a place where history comes to life.
                                                                                                         – Norman Cousins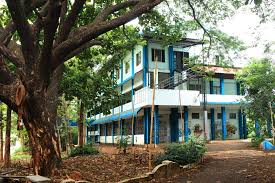 Major aim of the Library is to supports the academic activities of the college through the rich collection of information resources. We are equipped with 35000+ books in the area of Economics, History, Computer science, Commerce, Literature (English, Hindi & Sanskrit), Political Science, Mathematics, Statistics, Psychology, and management studies. We have a good collection of books relating to competitive examinations, collections on Buddhism and Gandhian literature etc. are stacked inside library.

Print Journals: We subscribe 40 national journals from reputed publishers for our reference and research activities.
N-LIST@Library: N-LIST stands for "National Library and Information services Infrastructure for Scholarly Content". The programme was funded by the MHRD under NME-ICT to extend access to selected e-resources to eligible institutions. The N-LIST covers all the disciplines viz. PureSciences, Social Sciences and Humanities including Linguistic and Languages.
Login: Registered users can log on to on N-LIST homepage for accessing N LIST e-resources. Students who wish to avail N-list access can contact librarian for creation of username and password. Following is the Member's login link;
https://iproxy.inflibnet.ac.in:2443/login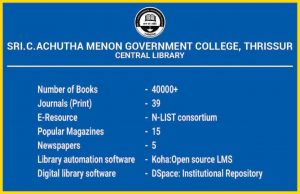 AVAILABLE ELECTRONIC RESOURCES (Full text)
E-Journals
E-Books
American Institute of Physics [18 titles]
Cambridge Books Online [1800 titles]
Annual Reviews [33 titles]
E-brary [150000+ titles]
Economic and Political Weekly (EPW)     

[1 title]

EBSCoHost-Net Library [936 titles]
JSTOR [2500+ titles]
Institute of South East Asian Studies Books [382+ titles]
Oxford University Press [262 titles]
Taylor Francis eBooks [1800 titles]
H. W. Wilson [3000+ titles]
Springer eBooks [2300 titles]
Cambridge University Press [224 titles] (2010-2016)
Sage Publication eBooks [1000 titles]
Royal Society of Chemistry [29 titles]
McGraw Hill:Myilibrary  [1124 titles]
Library automation; Library is partially automated with Koha: Library management software. Books are classified according to Dewey Decimal Classification system (DDC), and bar code labels for all the books are generated. Cataloging of books is in process and the Library Catalogue (OPAC) will be available through LAN shortly.
 GENERAL LIBRARY RULES
Identity card is compulsory to avail library services
Leave your personal belongings at the property counter. Library is not responsible for the loss of your personal belongings
As part of usage statistics, always record your details in the gate register
Do not delegate others to borrow books on your behalf
Do not sub lend books you have borrowed from library to anybody
Ensure that items issued are in good physical condition, dues date is properly stamped etc. Library does not carry the responsibility of damaged books after issuing
Books should be returned on or before the due date. Items can be renewed for another 14 days.
Always maintain silence inside library, group study, conversations etc. are not permitted
Books may be put at the table or leave them flat on the shelf after use; you need not attempt to shelve them by yourself. BOOK MISPLACED IS A BOOK LOST
Students will be held responsible for any mutilation found in library materials when returned. Users should not underline, cut or mark any text; do not fold papers etc.
Reference books, Journal/Magazines, Newspapers, etc. are not allowed for borrowing.
Librarian reserve the right to recall books for valid reasons
INFLIBNET  (INFORMATION AND LIBRARY NETWORK CENTRE)
Google can bring you back 100,000 answers, a librarian can bring you back the right one.

                                                                                                      – Neil Gaiman
Librarian                 : Jini Mathew
 Staff Coordinator:  Lt.Dr. Shajimon IJ, Assistant Professor of History