The Google form for collecting Alumni details as part of 50th Anniversary Celebrations: https://forms.gle/xkXCJmjrKe2aFyGi9
The Old Students Association (OSA) as it was called earlier, began to function from 1974, two years after the establishment of the college. The Alumni organized various activities which was source of inspiration to the students of the college and the society as such.
The association organizes and facilitates a host of events every year at college. This includes the Alumni Day which is held on the last Sunday of every year, the Silver Jubilee Class Reunion and various other reunions. Association members are also invited to campus events like Union inauguration Day, Merit Day, and other cultural events on Campus. For instance, the Association also organises 'Civil Services classes,Net coaching in the evening of Wednesdays on campus every year. In addition, there are picnics outings, sports events, and meetings of various special interest groups within the alumni in Kuttanellur and elsewhere in the country as part of its chapter outreach events.
Alumni Registration Certificate
Convenor: Dr. Eldhose KV, Assistant Professor of Commerce
Events 
2021 Alumni meeting
Memories
M Com(2017-19)
BBA (2014-15)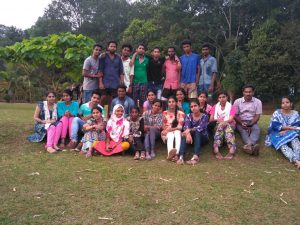 Alumni Bye-law
Gallery
Annual Reports